for j's birthday, i got him the book :"Be the Change You Want to See in the World. 365 Things You Can Do for Yourself and Your Planet" written by Julie Fisher-McGarry.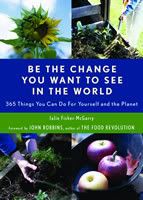 there is an entry for every day of the year with various inspirational quotes, vegetarian recipes, tips, and more! so far we have both really enjoyed this book! for today the entry is a costa rican black bean soup recipe and i'm so excited to eat it! we've got about 30 minutes left to go! i'm also making some vegan jalapeno cornbread to go with it. yummmy.
i should mention that this is the first time i've ever made dried back beans. i'm super embarrassed to tell you that; however, better late than never. after becoming vegetarian in october of 2007, black beans became an consistent staple in our diets. i had always been so accustomed to canned black beans; however, i am trying to get away from as much canned and processed food as possible! the sodium alone is bad enough, let alone all of the products that you can't pronounce! although the dried black beans are
much
more of an effort - the health benefits are worth it. i hope i can say the same about the taste!
anyways, if you're looking for a great book to keep you motivated for 2009, please read this book! and if you're looking for a black bean soup recipe, just email me and i'll send it over!