i have never wanted a fancy wedding cake. truth be told, i never wanted a traditional wedding cake at all. i've always tried my best to live simply and i felt like it should transpire to all aspects of the wedding, but especially the cake. so here's the plan: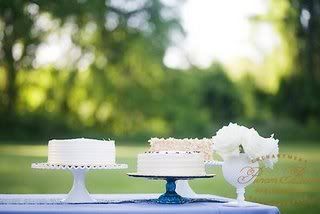 [image via
http://www.punambean.com/
]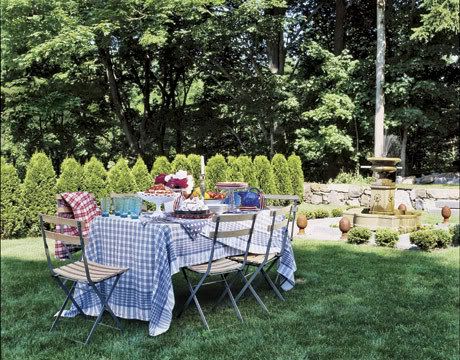 [image via
http://www.countryliving.com/
]
j and i felt like this option would be best because it gives everyone a different option of flavor, we can have some vegan selections, and it's so cute! ok, well maybe that last part is mostly my opinion - ha. and while i'm confessing things, i guess i should also admit that building a collection of cake stands also makes the multiple cakes idea sound a little bit sweeter!
i also thought it would be great to have our relatives each make their "infamous" desserts so we could have some of the desserts we both grew up loving. for instance, my great aunt makes the best strawberry shortcake east of the mississippi. j's aunt makes killer pound "puppy" (j used to call it that when he was little - how cute!) cake. j's mom makes amazing pies [at least so i've heard, because as delicious as they look...i don't like pies sadly]. anyways, suffice it to say we'd be well covered!
and of course to complicate things, we also love the cupcake possibility. hmm - i guess we have time to make up our minds [and then change them many times too] before our wedding.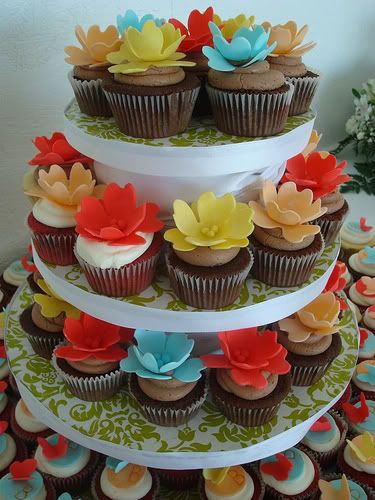 [image via
happiness in a bite
]
hmm - we
could
always do both...even if we did one at the reception and one at the rehearsal dinner. ok, enough about cake cause it's no good to talk about cake while you're trying to lose weight!