so now that it's 2009 [the year of the wedding] i really have to get everything lined up! don't get me wrong - i'd say considering the wedding is set for october 10, 2009 that i still have a bit of time. since j and i got engaged last may, i felt that i had so much time that i just started collecting so many ideas. the problem with a long engagement is that i got overwhelmed and burnt out quickly before i had even really started booking anything. almost worse was that i couldn't get many people (i.e., parents and j) to take me seriously. i would consistently bring up ideas or try to move forward and all i would hear is "we can talk about it later, the wedding is still over a year away". but now that it's 2009 - it's time to check off more on the list...
as for some of the larger tasks, many have been completed. we set the date. we've put the deposit down on the venue. i have my dress. we've decided on the attendants. we've got a general theme idea. we know the color scheme. we've got our officiant. we've got our photographer! i'm sure there is more that's been done, but we still have a long way to go. checklist to come soon.
now about the date...i had always known 2 things before i got engaged - now i wasn't a girl who always dreamed of her wedding, but i knew i wanted a fall wedding and i wanted it to be outdoors. in georgia, the driest month of the year is october. by having an october wedding, i'm hopefully securing a nice fall wedding and increasing my chances for a rain-free outdoor wedding. since j asked me in may to marry him, i knew that it'd be easier to wait until october of the next year to get married. in deciding on the official date, we had to take a lot into account. for one, the first saturday of the month was the day before j's mom's birthday and since we thought it'd be better not to have our anniversary conflict with her birthday each year, the 3rd was eliminated. we also had to consider that the UGA fall home games in athens floods over into the small town where the venue is so we had to make sure that we had the wedding on an away weekend; thankfully the next weekend was safe so the 10.10.09 date was set!
now on to the venue...i didn't take me long to find the location. moreso, after seeing it, it didn't take me long to know it was absolutely the right spot. no other venue even came close no matter how stunning. j and i went out to madison, ga to visit the farmhouse inn (hence the name of the blog) bed and breakfast. we were immediately greeted by the lovely innkeeper, the beautiful oak tree, and lots of chickens! the farmhouse inn is on 100 acres of hiking trails, fishing ponds, a lake, and it is all breathtaking. even better is that you rent the whole b&b for the weekend and really get to spend time with those you love. j and i are really excited to be able to extend the celebration, eliminate any need to rush through one of the happiest weekends of our life together, and to just enjoy every second!
it will definitely be an affair to remember...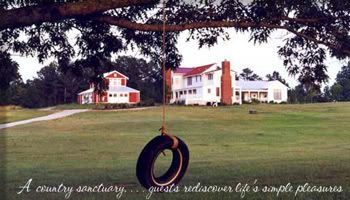 [image via
http://www.thefarmhouseinn.com/
]
jason and i are headed to north ga today to enjoy the weekend with some great friends. some r&r is definitely needed now that the holidays are over. i am looking forward to just enjoying the wooded views and the tranquility that it will evoke.
"you cannot perceive beauty, but with a serene mind" - henry david thoreau