so i've set a goal for myself to complete the save the dates this month! this thankfully means somewhat finalizing the guest list. i have had a few ideas, but i think we've finally got the endless ideas narrowed down!
the inspiration for the save the dates are: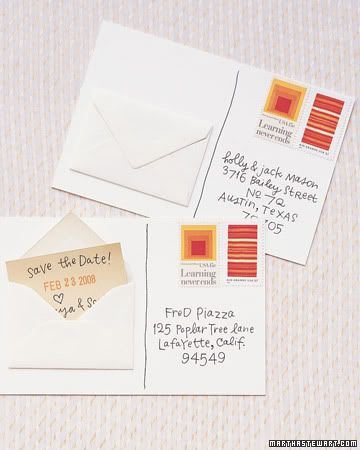 i should note that our postcards and envelopes will be much more colorful! i am super excited to play around with these! i will definitely make sure to share once i am finished! the front of these will have to be a surprise. actually, the envelope idea may just roll over into the guestbook, but i'm torn because i sure do like the blurb concept too.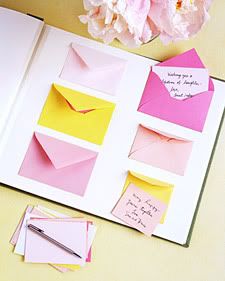 time just doesn't seem to be on my side lately. i have so many budget-friendly diy ideas, but making myself sit down and do them has proved to be harder than the crafts themselves! i know that once they are done, i will be able to sleep better at night which is a good enough motivator in itself. in the meantime, any suggestions on how to stay focused and motivated to get all of these necessary wedding things done?
side note - today i am finally back on track with getting in shape before the wedding - the holidays definitely took their toll this year and i am ready to get healthy. i have to remember that no one can achieve my goals for me and that if i don't make it happen, then no one will. this 64 degree weather in atlanta in january (!!!) definitely doesn't hurt the motivation to get outside and get moving!
[images via marthastewartweddings.com]