so the story surrounding my wedding dress is a pretty funny one. literally about a week after getting engaged, j and i were visiting our local goodwill (a favorite past time) when i jokingly asked if i should try some dresses on. i grabbed a few and headed for the closest fitting room. i put on the first dress and asked j to zip me up. he came into the fitting room and my jaw dropped...i had instantly fallen in love with the dress that i was just casually playing dress up in just minutes before. i checked the price tag and then called my mother frantically: "mom i think i may have just found the dress!"
despite a tiny hole in the train lining (which could be easily hidden or altered), i felt that this dress completely embodied a fall garden outdoor wedding. with the beautiful lace work and long sleeves, i was head over heels. i walked out of the goodwill with the dress in hand:
vintage wedding dress = $40
extreme happiness = priceless!
i didn't bother me that j had seen me in the dress, because we're not superstituous and we had always planned on seeing eachother before the wedding to take pictures anyways. i took the dress to my parents' house and definitely did not get the reaction i was hoping for. my dad's first response was "the dress is yellow" to which i replied "it's not yellow! it's vintage!"
i was definitely a bit disappointed with the parental reception, but i held strong that this was the one and only dress for me. after some further debating, we were able to find a compromise: i would at least go look at dresses in a bridal shop, but if i felt that nothing compared, then my parents would fully support my decision.
david's bridal was having one of their typical limited* time only sale so i figured i'd go and see what my other options were (* aka not really limited). i'd always dreamed of having a dress reminiscent of the dress below, but knew my budget could never afford the hefty price tag.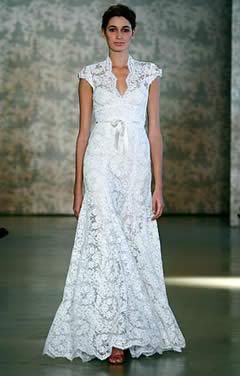 so david's bridal it was. i will say there is definitely something to be said about the dress-buying/ trying-on experience. having my mom there with me made a very big difference compared to the thrift store (although the fitting rooms were sadly comparable). i narrowed down my choices to a few favorites, when i decided to do one last walk through i picked up a dress that i had never imagined that i'd like, but tried it on anyways. quelle surprise! it was perfect! and the $250 price tag was low enough to help justify being a two dress bride (gasp)! [i never thought i'd be one of those girls, but so be it] i have some people who prefer the vintage dress and some who prefer the db dress. i may wear the vintage dress to the rehearsal if i decide not to wear it during the wedding. i now owe you pictures of the 2 contending dresses - i promise to get those pictures posted asap! as for the new dress, j has to wait until the day of the wedding to see it. i guess sometimes it is more fun to be secretive!
were there any surprising decisions that you made during your planning process that you never would have pictured for your wedding but ended up being perfect?
"an open mind leaves a chance for someone to drop a worthwhile thought in"
[dress via
monique lhuillier
]