i can remember way before jason and i got engaged, every once in a while we'd do the "if we got married right now, who would you want in your groomsmen/ bridal party"?
j and i would start going down the list of anyone and everyone we'd want standing next to us during the wedding celebration ceremony. i'd always imagined having all my lovelies by my side looking something like this: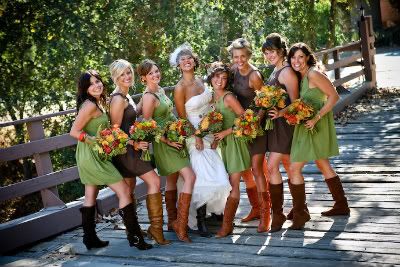 [image via
matthew morgan photography
]
or this: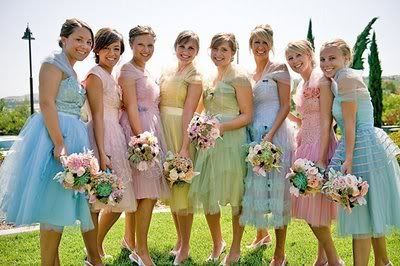 [image via
flint photography
]
however, once we actually got engaged and "the list" started getting more official - we realized just how difficult the decision would be. we wanted our closest friends, we needed our siblings, and we needed some people to avoid drama. we kept going trying to decide between 1 person each versus 6 each! it turned out that by trying to appease everyone else and make everyone happy, we were becoming very
un
happy. j and i are very laid back and we didn't want to upset anyone on such a happy day, so we have decided to not have any attendants at all. this finally seemed like the best idea for us for 2 reasons:
1. we are having a [somewhat] small outdoor wedding ceremony. it's going to be short, but it's going to be oh-so-sweet. therefore, we felt like having 6+ people on each side would distract from the intimacy that we wanted to keep within the ceremony.
2. we are having our closest friends and family stay on site at the b&b with us the whole weekend. we figured it'd be better to include them in the weekend long celebration with us and spend the money to stay, than to buy dresses/ rent tuxes, and just stand next to us for 20 minutes.
in the end, we feel very good about our decision. there was definitely a LOT of drama that surrounded this final conclusion and hopefully in the end everyone will have fun and not be hung up on who wasn't up there, because in the end, it will just be me and jason [well and our officiant] which is what the wedding is all about, right?
did you experience any friends/ family drama surrounding your attendant decisions?