i feel like lately i've just been posting pics from amazing weddings that i adore. which is helpful to me to gain inspiration during all of the wedding planning; however, i hope that you enjoy it and don't find it too redundant!
this next wedding is one of my favorites for many reasons:
the great dress!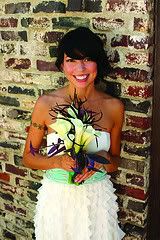 the adorable couple!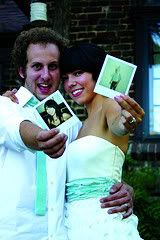 the "true love" photo backdrop with the unicorn! and the smiles of the guests!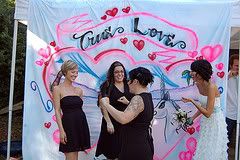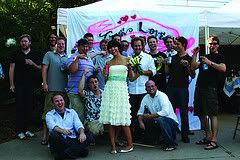 the simply fashionable attendants!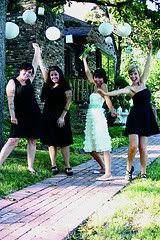 the cupcake tower!
the colorful buffet!
the poster invitation!
the cute button favors!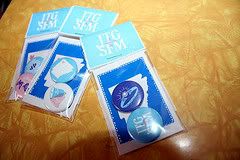 and if you couldn't tell from the previous picture, the polaroid cake topper is brilliant!
[all images via
sarahfortune's flickr
]
whenever i see pictures from the wedding, the first thing that catches my attention is the joy in everyone's faces. to me, that is the ultimate testimonial to a fantastic wedding. it's the small personal touches that people remember and i hope that our wedding lasts in our guests wedding as a blast of a party and celebration. they don't have to remember the cake flavors, the drinks, or the color of the linens, but i sure do hope they remember the great time that they had and the love that filled the farm.
one can only hope...
out of all of the weddings that you've been to, what was the most memorable thing and why?